Yellowstone Fires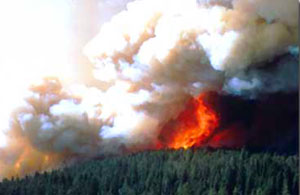 Natural fire can stimulate the transforming of a forest and cause what John Muir called "an outburst of organic life". The nitrogen, carbon, and phosphorus released after a fire can create fertile seed beds and be available for plant growth. After a fire, more sunlight penetrates to ground level. For a time this promotes establishment and growth of plant species previously limited by shading from the forest canopy. Plant species evolve many different ways to recolonize burned areas. Some pines bear cones that only open in response to heat from fires. Some seeds, roots, and tubers can survive because the soil insulates them from the heat from fire. Some plants produce prodigious amounts of wins-dispersed seeds. Many animal species also benefit from changes caused by fire. Seeds and insect eating rodents can increase in recent burns, and hawks or owls can hunt them more easily through the more open the forest canopy. Mountain bluebirds take advantage of the new nest holes, and woodpeckers find more abundant sources of insect food in the remaining snag trees. Grazers like elk and bison and browsers like moose and deer take advantage of the better quality of forage, and this ultimately benefits predators and scavengers, too. Three years after a fire in Yellowstone there is usually a heavy growth of fire weed, aster, elks sedge, and some 20 other plants that cover the forest floor. Lodgepole pine and aspen have established seedlings by this time. Researchers have learned that fire returns to lodgepole forests at 200 to 400 year intervals but that fires of the scale experienced in 1988 may happen much less often. The 1988 fires in and around Yellowstone gave scientists a rare opportunity to study the fires affect on a very large scale.
References
This post incorporates text from:
Yellowstone National Park Handbook 150. 2001.
National Park Service, Division of Publications.