Fort Yellowstone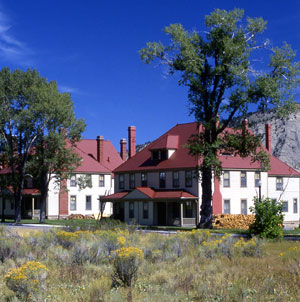 Congress created Yellowstone National Park but gave no direction or money on how to run or protect it. Decades of trial and error went into deciding how to administer and protect this new thing, a national park. Meanwhile, poachers, squatters, and vandals created huge problems. "What has the government done," a Montana newspaper asked in 1874, "to render this national elephant approachable and attractive since its adoption as one of the nation's pets? Nothing." A string of superintendents with no pay (at first) and no enforcement power met with mixed or no success. Finally, the Secretary of the Interior asked the United States Army for temporary help. 50 men of Company M, First United States Calvery, marched to Mammoth Springs from Fort Custer in the Montana territory, arriving August 17, 1886. In fact the Army would stay 32 years and play an important role in the history of Yellowstone. The Army helped shape the later National Park Service, its ranger ethic, and it's policies for protecting national parks. While in Yellowstone the Army build many facilities: Fort Yellowstone (started in 1891,) soldiers stations, and backcountry cabins, many still use today. Fort Yellowstone at Mammoth Hot Springs consisted of 35 military structures built from the 1890s to the early 1900s, and it looks like the military Academy at West Point, New York. The army stayed on in the park for two years after Congress created the National Park Service in 1916, and, even after the army left, some soldiers remained and became civilian Park Rangers.
NPS Historian's Comments on Fort Yellowstone
Although the U.S. Army was not supposed to stay very long when it entered Yellowstone in 1886, it ended up staying 32 years. Historians have generally treated the army kindly for this period, crediting the soldiers with doing a largely effective and efficient job of protecting Yellowstone's natural features and animals from vandalism and poaching. Although there were instances of alleged overzealousness, the soldiers usually did their work quietly and effectively, in what has been called "the army's most unusual peacetime mission." An important book on the subject is appropriately titled "How the U.S. Cavalry Saved Our National Parks."
References
This post incorporates text from:
Yellowstone National Park Handbook 150. 2001.
National Park Service, Division of Publications.