Yellowstone Tours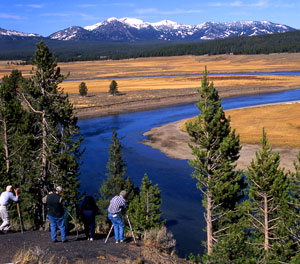 With 2.2 million acres, Yellowstone National Park provides a lot of room for adventurers, no matter what their interest or ability. Adventures range from highly personal experiences, like listening to the howl of a wolf in the early-morning pre-sun quiet to incredibly physical activities such as backpacking into the Thorofare, the most remote geographic area in the lower 48 states. But no matter what the adventure, visitors will find none that are common since there is no place on Earth quite like Yellowstone.
The main concessionaire in Yellowstone National Park is Xanterra Parks and Resorts. Xanterra manages the lodging, and camping in the park in addition to having many tours listed below.
Interpretive Bus and Van Tours
Custom Guided Tours
Historic Yellow Bus Tours
Horseback Trail Rides
Stagecoach Adventures
Old West Dinner Cookout
Yellowstone Lake Scenic Cruises
Guided Fishing, Custom Tours and Backcountry Shuttle Service
Fly Fishing Guide Service
Walking Tours
Xanterra Parks & Resorts offers the only "in-park" lodging and camping, and is your direct in-park source for advance lodging, camping, tours & activities (Fill in Boxes to Right on Page), and dinner reservations for designated Yellowstone restaurants. No booking fees are charged. Be sure to check the Special Promotions & Packages!
Yellowstone Association Institute
The nonprofit Yellowstone Association Institute offers field courses that provide an inside look at Yellowstone National Park. In this remarkable outdoor setting, students gain new appreciation for the value of wild places.
Field Seminars are educational experiences that go deep! Taught by researchers, field biologists, and other experts, field seminars focus on specific subjects such as predator/prey relationships, park vegetation, illustrating the wild, and wildlife watching.
Lodging and Learning Programs mix just the right amount of education and recreation on your vacation. You'll be based at park hotels and taught by naturalist guides who are intimately familiar with Yellowstone.
Private Tours offer private educational programs that immerse your small group in Yellowstone's wonders. Choose the program that best fits your needs—a one-day tour or a combination of programs for a multi-day experience.
Backpacking Courses take you on a learning adventure in the vast wilderness of the Yellowstone area. Designed to be both light on the land and educational, backpacking courses are taught by a professional outdoor leader and a content expert.
TOP 10 ADVENTURES IN YELLOWSTONE NATIONAL PARK FOR TRAVELERS SEEKING THE CURE FOR THE COMMON VACATION
Employees of Xanterra Parks & Resorts, operator of the lodges, restaurants and other concessions in the park, are not only experts on places to go and things to do throughout the park, but they are also adventurers themselves. Off-hours entertainment could be a three-day backpacking trip or a quiet day of fly-fishing in one of the park's many trout-rich streams and rivers. Here are some of their favorite adventures, compiled below in "top 10" format, ranked from the easiest to the toughest physical experience.
1. See Wildlife like Wolves, Bears, Elk, Bison, Pronghorn and Bighorn Sheep at Dusk in Lamar Valley. Tour leaves between 4:00pm to 5:30 pm from multiple locations during the summer. Go to Lamar Valley to watch the sun set and listen to the sounds of the world's first national park greeting the evening. If you are lucky, you might hear the howl of a wolf, possible the wildest sound in North America. Sunset is a great time to look for wildlife in the valley, often called the "American Serengeti" because of the abundance and diversity of wildlife. Go on your own or join a Xanterra tour such as "Lamar Valley Wildlife Excursion."
2. Soak in the Boiling River, the only hot spring in the park where it is legal to bathe. A large hot spring enters the Gardner River, creating a steamy pool along the river's edge where bathers can soak in bubbling warm water. Bathing suits are required, and visitors should be prepared for a half-mile walk from the parking area to the hot spring.
3. Photograph the valleys, mountains, mammals, birds, waterfalls, geysers, rivers, hot springs, mudpots, historic buildings, wildflowers, firescapes and people in the park. Visitors who run out of things to photograph are not looking very hard. For travelers who enjoy the camaraderie of other photographers, Xanterra offers daily "Picture Perfect Photo Safaris."
4. Walk Norris Geyser Basin. This area is home to the some of the hottest and most acidic geysers in the world. The acid killed most of the lodgepole pines in the area, creating a barren, other-worldly-looking place that many find more interesting than even the famous Upper Geyser Basin featuring Old Faithful geyser. A series of boardwalks – some quite steep – circle the bubbling, mysterious and malodorous hot springs and geysers.
5. Hike to the Mount Washburn Fire Overlook. Considered by some employees to be the park's best short hike, the three-mile trail from the Chittenden Road parking lot to the overlook is only 1,000 feet elevation gain, and rated easy. From the summit, hikers can see many park features, including the Grand Canyon of the Yellowstone, Hayden Valley, Yellowstone Lake and even the Grand Teton mountain range.
6. Cast for trout. There are more than 200 streams and rivers in Yellowstone, and many of them have abundant population of wild, stream-bred cutthroat, rainbow, brown and brook trout. Xanterra guides can suggest the best streams for fishing at various times of the year. Xanterra offers various chartered fishing options fishing guide service.
7. Bicycle along the Blacktail Plateau Drive to the park's Petrified Tree. Offering stunning scenery, this road is one of two in the park that allows two-way bike traffic and one-way car traffic. Mountain bikes are recommended. Bicycles can be rented at the Old Faithful Snow Lodge. Cyclists hoping to explore the Blacktail Plateau Drive should provide their own bikes or be prepared to transport rented bicycles in their vehicles as the lodge does not provide bike racks.
8. Saddle up and take a two-hour horseback ride in the Roosevelt area of the park. The guided trail ride heads up a wooded hill behind the corral and meanders through and around sagebrush flats, meadows, canyons, lakes and valleys. Horseback rides are also offered at Mammoth Hot Springs Hotel and the Canyon Lodge.
9. Paddle Yellowstone Lake in a canoe or kayak. Kayaking Yellowstone Lake was named the second of the "50 Best American Adventures" by National Geographic Adventure magazine. Xanterra provides a one-way or roundtrip backcountry shuttle service with five drop-off points for travelers, their gear and boats. Self-sufficient campers/paddlers can explore some of the most secluded areas of the park.
10. Hike to the most remote spot in the lower 48 states – the Thorofare region. Researchers determined the area's designation because it is at least 20 miles from a road in all directions. Over the course of several days, backpackers are treated to the abundance of Yellowstone – wildlife, rivers, valleys, forest, thermal features and solitude. Travelers with limited time can eliminate the multi-day hike to get to the region by arranging to be dropped off and/or picked up at a location near the region by Xanterra's Backcountry Shuttle Service.



Reservations at Yellowstone can be made by calling (1) 307-344-7311 or toll-free 866-GEYSERLAND (866-439-7375), or visiting the web site www.yellowstonenationalparklodges.com/
References
This post incorporates text from
NPS.gov "National Park Service – 2009-2010 Commercial Services" http://www.nps.gov/pub_aff/plan_your_visit/concessions.htm, a web page in the public domain.