Old Faithful Inn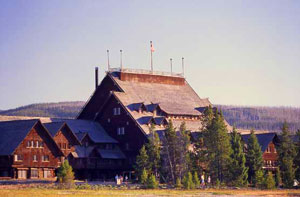 "More than any other building in the national parks," wrote architectural historian Harvey K. Kaiser, "the Old Faithful Inn not only met but far exceeded the concessionaires ideas for development." Yellowstone Park Association, a concession whose silent partner was the Northern Pacific Railroad hired 29-year-old Seattle architect Robert C. Reamer in 1902 to design the Old Faithful Inn at Old Faithful Geyser. It was built between 1903 and 1904 with local stone and timber in the rustic style for $140,000 plus $25,000 for furnishings. Old Faithful Inn's seven-story, log framed lobby soars 91 feet to the roof line. "The lobby was the focus of Mr. Reamer's rustic effect," historian Aubrey L. Haines wrote. "It is a great balconied cavern, open to the roof, with all supporting beams in braces exposed to view like the skeleton of some enormous mammal seen from within." You must stand on more than one of its balconies to gasp its spectacle. The wrought iron work was largely forged on site. The Old Faithful Inn's chalet features applied to its log skeleton typify the rustic style. The Inn was meant to be blunt competition from rival Union Pacific package tours became in Yellowstone's West entrance. The east wing was added to the Old Faithful Inn between 1913 and 1914; the west wing in 1927.
Xanterra Official Site Old Faithful Inn Reservations
References
This post incorporates text from:
Yellowstone National Park Handbook 150. 2001.
National Park Service, Division of Publications.