1871 Hayden Expedition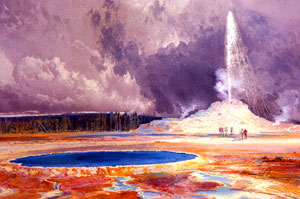 When the nation turns its energy to the West after the Civil War, tales of Yellowstone's thermal features quickly inspired people to investigate. Native Americans, trappers, and miners knew the Yellowstone country before expeditions began exploring it. Reports of its wonders moved Congress to fund the scientific exploration of Yellowstone in 1871 by the Hayden expedition, with the simultaneous survey by the US Army Corps of Engineers, with expeditions elsewhere led by Clarence King, John Wesley Powell, and Lieutenant George Montague Wheeler, the 1971 Hayden expedition was one of the four great surveys of the West. It was led by Dr. Frederick V. Hayden, a physician turned geologist, explorer, naturalist, an influential publicist of the West scientific wonders, scenic beauty beauty, and economic potential. Money from Northern Pacific Railroad promoter Jay Cook enabled Hayden to take along photographer William Henry Jackson, sketch artist Henry W. Eliot and W. H. Holmes, and painter Thomas Moran. Their compelling visual proof for the expedition reports sparked national interest in Yellowstone. Hayden, other explorers, and the railroad lobbied Congress to save the area from private development. Based on its 1864 precedent of granting public domain lands in Yosemite Valley to California for parkland, Congress set aside Yellowstone as the nation's first national park. President Ulysses S. Grant signed the legislation into law on March 1, 1872, creating Yellowstone National Park.
References
This post incorporates text from:
Yellowstone National Park Handbook 150. 2001.
National Park Service, Division of Publications.