Yellowstone by Railroad and Coach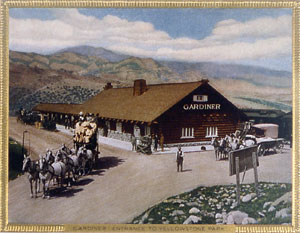 Jay Cooke and the Northern Pacific Railroad sought to have Yellowstone made a national park so they could profit from it without owning it. Cook failed to profit from Yellowstone Park because of the depression of 1873. 10 years later a reorganized Northern Pacific Railroad completed it's line across Montana and a spur track south to Yellowstone from Livingston. Enjoying a virtual monopoly on access to Yellowstone Park, the railroad went all out promoting it and realizing its tourist potential. The railroad began a guide book series in 1883 with The Yellowstone National Park. By 1886 it was underwriting construction of hotels that were a day's journey apart by horse-drawn coach and near Yellowstone's major attractions. (It took about five horse-drawn days to see the park, and railroad also owned the stagecoach concession.) Stages later met visitors at the Gardiner train station once the Northern Pacific had extended its spur track almost up to Yellowstone's entrance. Stages then pulled visitors through the Memorial Arch. In 1915 the railroad bought in 44,477 of the park's 51,895 visitors; cars brought in only 7,418. By 1930 only 26,845 of the year's 194,771 visitors came by rail. In 1917 caravans of concessionaire tour buses had begun carrying visitors through Yellowstone Park. Later concessionaire fleets of bigger park buses took visitors touring. The railroad defended the new park and later advocated enlarging it to protect ranging wildlife. The National Hotel was the first hotel built at Mammoth Hot Springs, in 1883.
References
This post incorporates text from:
Yellowstone National Park Handbook 150. 2001.
National Park Service, Division of Publications.